No Soup For You Project
In 1995, a man began selling soup in the Upper West Side. New Yorkers were stunned. Stunned by soup. He was truly a genius. The bisques, the broths. Diners were enchanted. He was truly one of the finest soup artisans of the modern age. You couldn't eat this soup standing up, your knees would buckle! The line outside his stand grew every day, despite his notoriously fastidious behavior. Some customers referred to him by a derogatory nickname for his facist demands.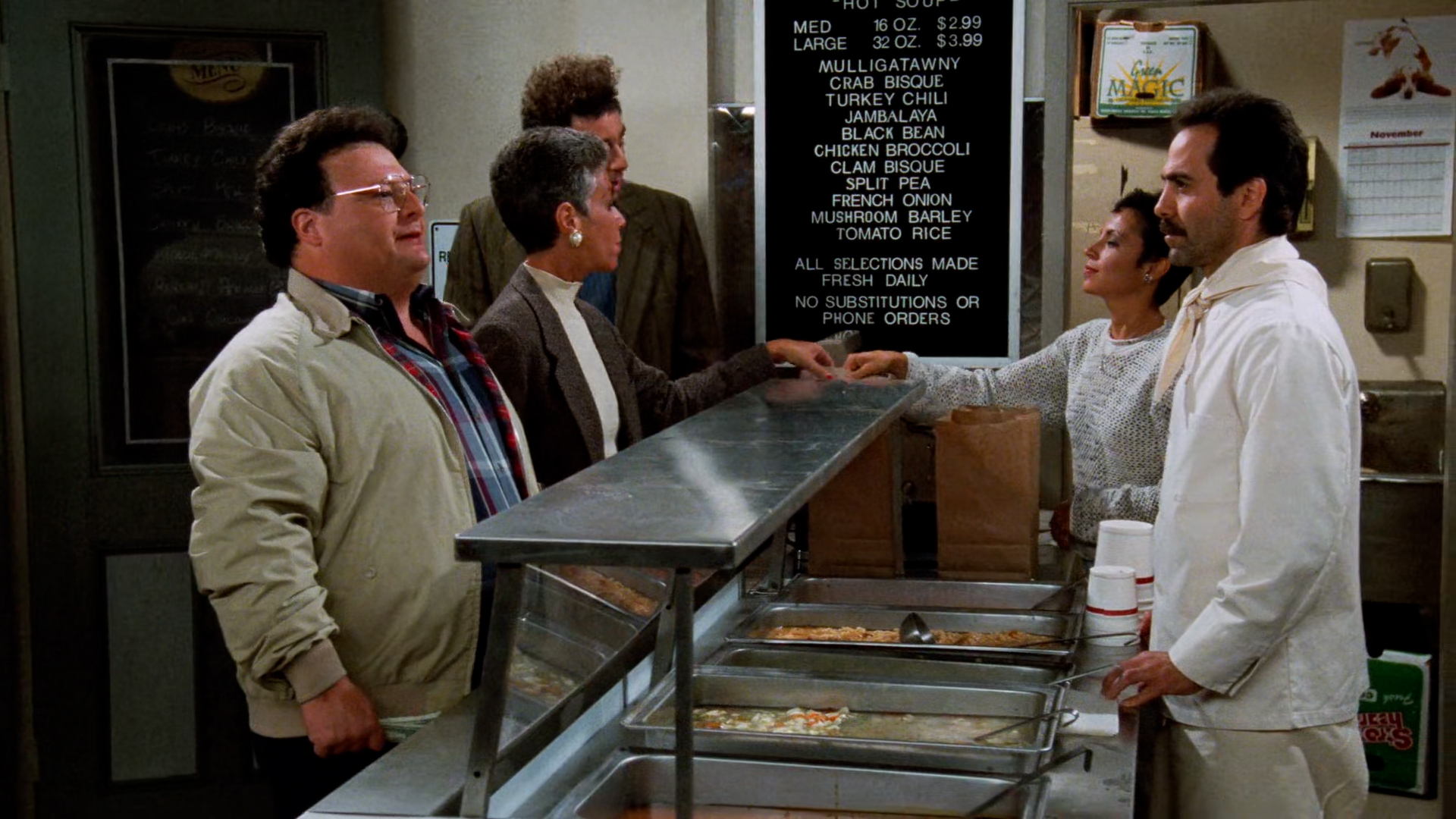 One day, his recipes were discovered by a disgrunteld customer on handwritten notes inside an old armoire. His secret was out. He packed up his soup stand in shame and departed for Argentina. Now, for the first time, these lost recipes will be published!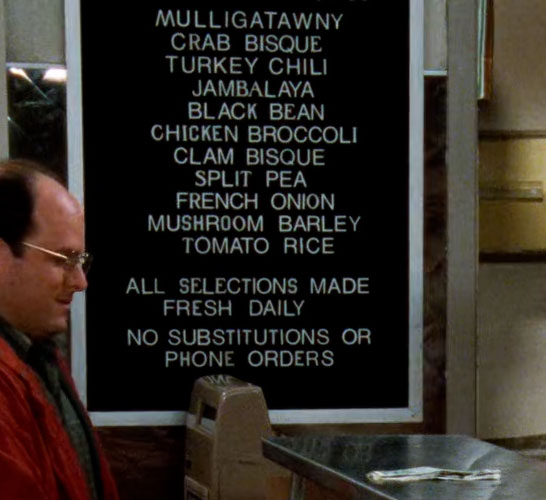 Week by week, we will be revealing the recipe to one of the soups on the menu inside his restaurant, as seen in the screenshot above. We will be posting each soup recipe each Sunday in the order it appears on the menu, starting with mulligatawny on October 8th. See below for updates and refer to @ChampagneVideoStore on Instagram for updates.

Week #6: Chicken Broccoli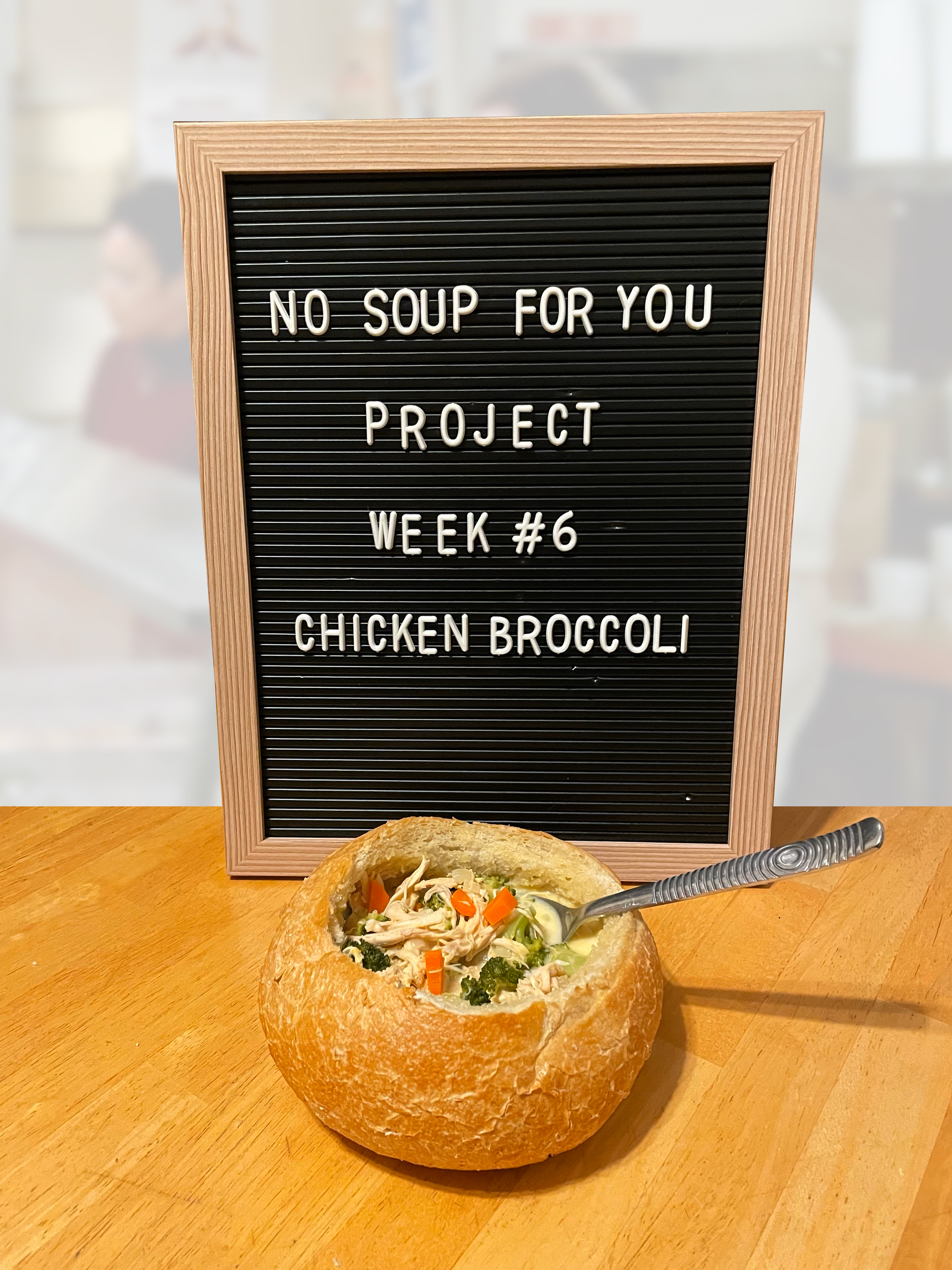 This hearty soup is packed with rotisserie chicken. It's the wood that makes it good. It's balanced by cheddar and broccoli. Vile weed? I think not. I like broccoli. It adds a nice texture to this soup. While the block of cheese that goes into this one isn't quite as big as a car battery, the cheddar provides so much cheesey goodness.

We've been trying to serve each soup with a good carb and it's about time we explored the bread bowl. A bowl of bread! Bread bowl, George! First you eat the soup, then you eat the bowl. There's nothing more satisfying than looking down after lunch and seeing nothing but a table. We just picked up a small loaf of sourdough bread and carved out the middle. This paired so well with the chicken broccoli soup, as the soup had the right consistency to get absorbed into the bread with each bite.

Ingredients

2 Tbsp unsalted butter

1 Medium onion, diced

2 large carrots, fine diced

2 cups broccoli florets, finely chopped

6 cups chicken stock

2 cups cooked, shredded chicken (rotisserie works well)

Salt and pepper to taste

1 cup heavy cream

2 cups shredded sharp cheddar cheese (get a brick and shred it yourself, the bagged shredded cheese has stabilizers in it and doesn't melt very well)
Directions
Melt butter in a large dutch oven over medium heat. Add your onion and cook until translucent, about 8 minutes.

Add in your carrots and broccoli and cook for an additional 5 minutes until your veggies start to soften.

Add in your stock and shredded chicken. Taste and add salt and pepper to your preference. Simmer for 20 minutes.

In a separate pan, heat your cream over medium low heat (do not boil it). Slowly whisk in your cheddar until all the cheese is melted and the mixture is smooth. Take your time doing this, if you do it over too hot of heat the mixture might break and be gross. When smooth and homogenous add mixture to the chicken soup.

Simmer for an additional 10 minutes, taste and adjust seasonings.

Serve in a bread bowl.

Week #5: Black Bean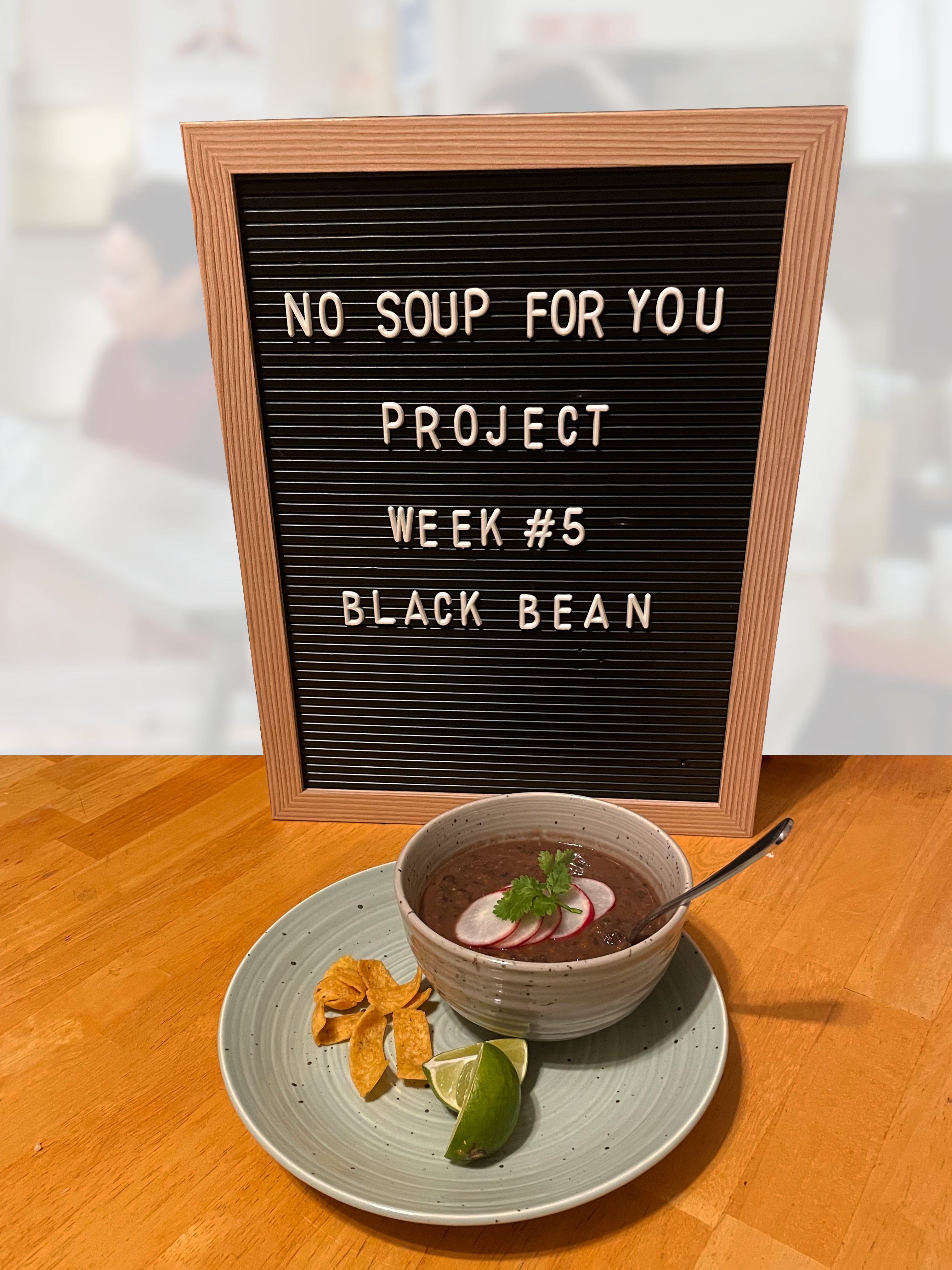 If you've been filling up on mutton or lamb chops, this is a pretty good lighter option. This black bean soup is vegetarian, but is packed with earthy, savory flavor. The ingredients are fairly simple too. You can even buy the generic brand of black beans. Rip off the label. You can hardly tell the difference! In place of bread, this soup pairs great with tortilla chips or Fritos to give it a little crunch.

We started with the recipe from the Official Seinfeld Cook Book, but added some additional spice with oregano and chipotle. Using a lager to deglaze adds an extra dimension too. Plus, then you have the rest of the beer to drink with your soup. Here's to feeling good all the time!



Ingredients
2 Tbsp neutral cooking oil

1 large yellow onion

2 celery ribs, finely chopped

1 large carrot, peeled and sliced into thin half moons

6 garlic cloves, crushed

3 tsps ground cumin

1tsp ground coriander

1 tsp oregano

1 tsp garlic powder

1 chipotle pepper from adobo can chopped into a fine paste

½ tsp crushed red pepper

½ cup mexican lager

4 cans black beans, drained and rinsed

4 cups veg stock

Juice from 1 lime

Salt and pepper to taste

Garnishes: avocado, cilantro, radishes, chips, sour cream, lime wedges
Directions
Heat the oil in a large dutch oven over medium heat. Add onions, celery, and carrot and cook until soft, about ten minutes.
Add garlic and chipotle paste and cook until fragrant another minute or so.
Add cumin and red pepper and cook for another minute until the spices coat veggies nicely and begin to stick to the bottom of the pot. Deglaze with lager and let alcohol cook out about 2 minutes
Add in beans and veg stock and bring to a boil and reduce to a simmer. Simmer for 20 minutes.
Using an immersion blender, blend the soup to your preferred consistency. I would recommend blending until thick but keeping a lot of the texture of beans and veggies. You don't want a sludge.
Add in lime juice. Taste and adjust seasonings. Simmer a final 10 minutes.
Week #4: Jambalaya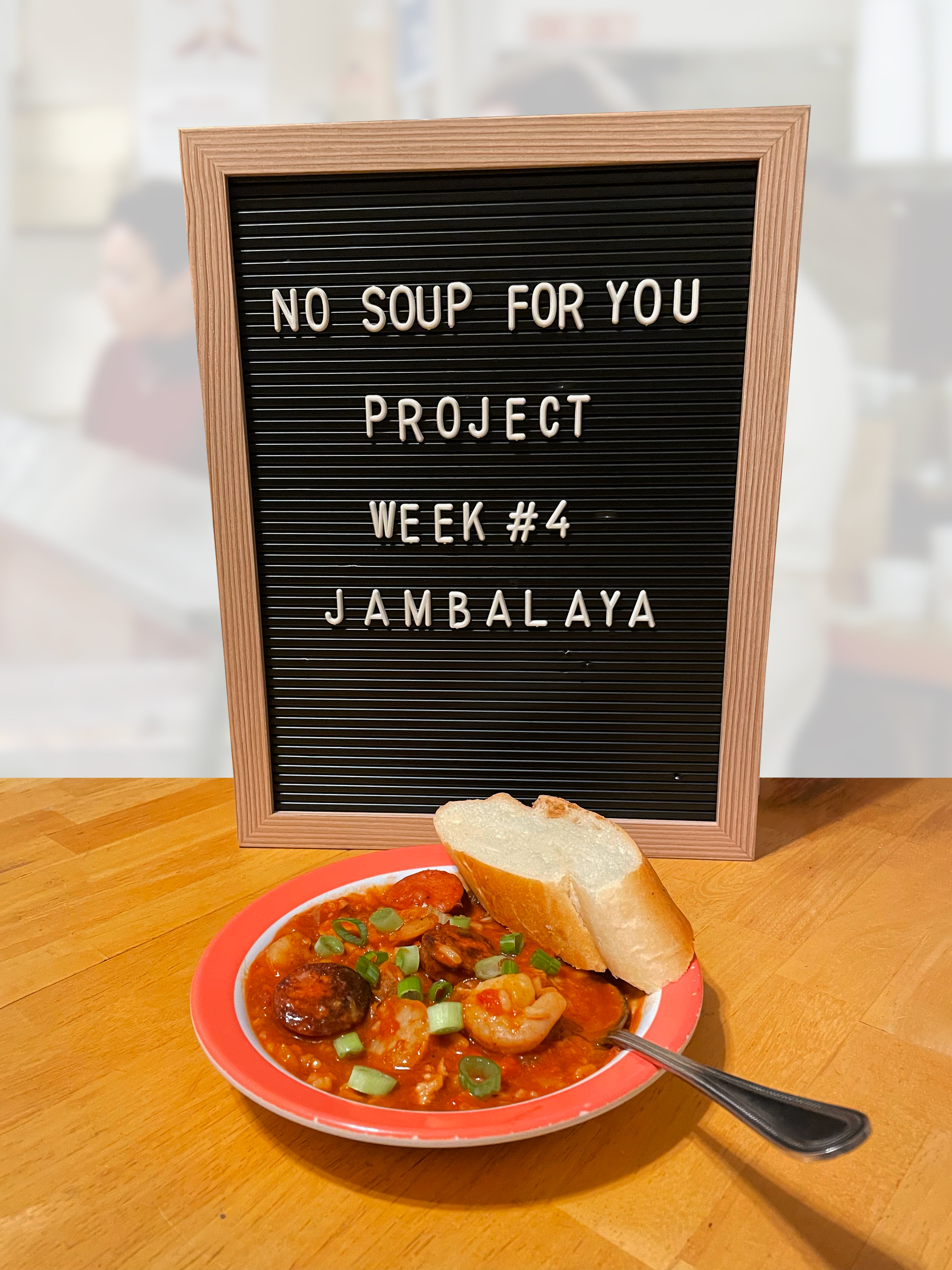 Is jambalaya actually considered a soup? Well, a wise man once said "soup's not a meal." And while that controversial claim has been challenged (especially if crackers are crumbled into said soup), this jambalaya is absolutely a meal. It combines chicken, sausage, and shrimp in a spicy broth with rice.

Jambalaya is Newman's favorite from the soup stand. In the episode, we see him diligently follow Yev Kassem's etiquette when ordering a bowl of it. Then he giddily purrs "jambalaya" before scurrying away. One of the great little random Newman moments in the show. At the episode's end, we see Newman panicking that the soup stand is closing and is fetching a big pot from his home to grab whatever soup is left. You know he was hitting up that jambalaya.

We went with French bread to serve with the jambalaya to match the dish's origins in New Orleans' French Quarter. New Orleans? I spent a month there one night!

This recipe was based on looking at lots of different published recipes for jambalaya. In paritcular, inspiration was drawn from GypsyPlate, Gimme Some Oven, and the Official Seinfeld Cook Book.



Ingredients
2 Tbsp neutral cooking oil

1lb chicken thighs, cut into bite sized pieces

1lb peeled and deveined shrimp

12 oz andouille sausage, sliced

1 medium onion, diced

3 stalks celery, chopped

1 and1/2 Bell peppers

5 cloves garlic, crushed

1.5 tsp garlic powder

1.5 tsp onion powder

1.5 tsp paprika

¾ tsp cayenne pepper

2 Tbsp flour

4 cups chicken stock

2 cups cooked white rice

14 oz can crushed tomatoes

14 oz can petite diced tomatoes

1 bay leaf

Salt to taste

Green onions for garnish
Directions
In a large dutch oven, heat the oil over medium heat. Saute chicken for 5-6 minutes until brown, remove from pan and set aside.

Saute the sausage for about 5 minutes until it's nice and brown and kinda crispy. Remove from the pot and set aside.

Adding more oil if needed, in the same pot saute the onion, celery, and bell pepper until the veggies soften and the onion is translucent, about 8 minutes. Add your garlic and cook until fragrant, about a minute or so.

Add your spices and flour and let them coat the veggies and cook out for a minute or so. Add in your broth, tomatoes, and bay leaf. Cook for 15 minutes.

Add your sausage and chicken back into the soup and cook for an additional 10 minutes. Add in your cooked rice and shrimp and continue cooking until the shrimp are pink and opaque and the rice is heated thru. About 5 minutes.

Serve garnished with green onions.

Week #3: Turkey Chili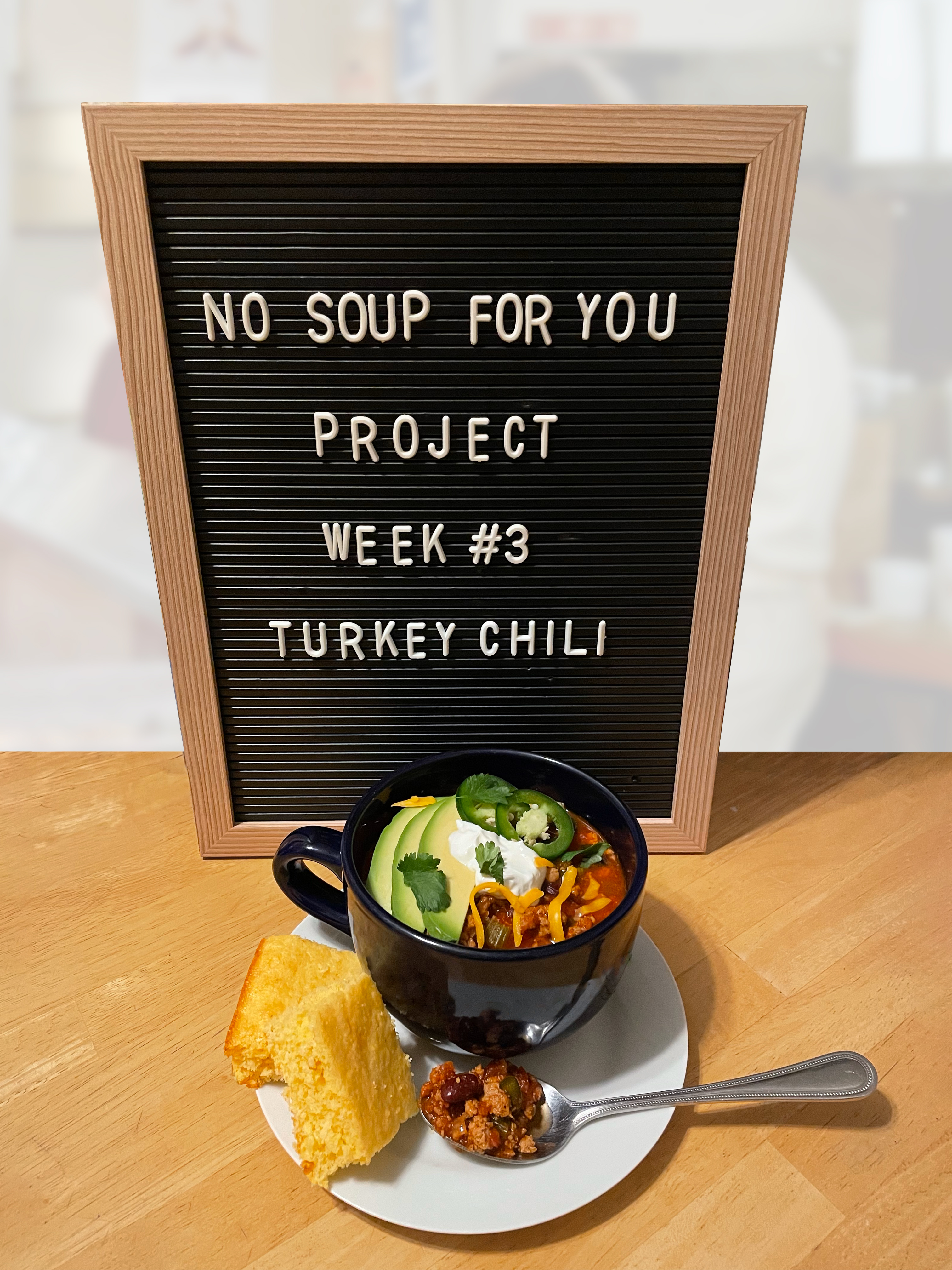 Chili is perfect for a Sunday afternoon in fall. It's full of so many ingredients that gives it a rich, complex flavor. This chili isn't too spicy either, so someone with a gastro-intestinal discorder like Poppie could still eat it.

When George first goes to the soup stand, this is what he tries to order. It's unfortunately taken away from him after he asks for bread. George seems to be a big chili fan, because he also orders it at Reggie's in another episode. We understand George being hung up on bread with this order. Chili needs some bread on the side. We recommend cornbread. The recipe for this was just from Jiffy!

This recipe was adapted from the wonderful Julie Tremaine's Official Seinfeld Cook Book, with a few personal tweaks, like adding cinnamon. People love cinnamon. It should be on tables at restaurants along with salt and pepper. Anytime anyone says, "Oh, this is so good. What's in it?" The answer invariably comes back: cinnamon, cinnamon. Again and again.



Ingredients
1 Tbsp neutral cooking oil

2 ½ lbs Ground Turkey

2 Medium yellow onions, diced

3 Large celery stalks, diced

½ Red bell pepper, diced

5 Cloves garlic, crushed

1 Jalapeno pepper, seeded and diced

1 Poblano pepper, seeded and diced

1 Chipotle pepper, diced into a paste, with some of the adobo sauce from the can

1 Tbsp fresh oregano, chopped

3 Tbsp chili powder

½ tsp cayenne pepper

½ tsp cinnamon

½ Tbsp ground cumin

28 Oz can crushed tomatoes

28 Oz can diced tomatoes

1 Cup chicken broth

15 Oz can red kidney bean

Salt and pepper to taste

Chili accoutrement: avocado, sour cream, cheddar

Recipe
Heat oil in dutch oven over medium high heat. Cook the turkey until no pink remains, about 12 minutes. Break up any bid pieces.

Add in onions, celery, and red pepper, cook for another 10 minutes or so until veggies the veggies soften.

Add in your remaining peppers, adobo sauce, garlic, herbs, and spices. Cook for an additional 2 minutes.

Add in your tomato products and broth. Bring to a boil. Once boiling, reduce heat and simmer for 10 minutes.

Add your beans and continue to simmer for another 20 minutes or so. Taste and adjust seasoning. Like all chilis, this will probably taste better as leftovers.

Serve with your accoutrement.
Week #2: Crab Bisque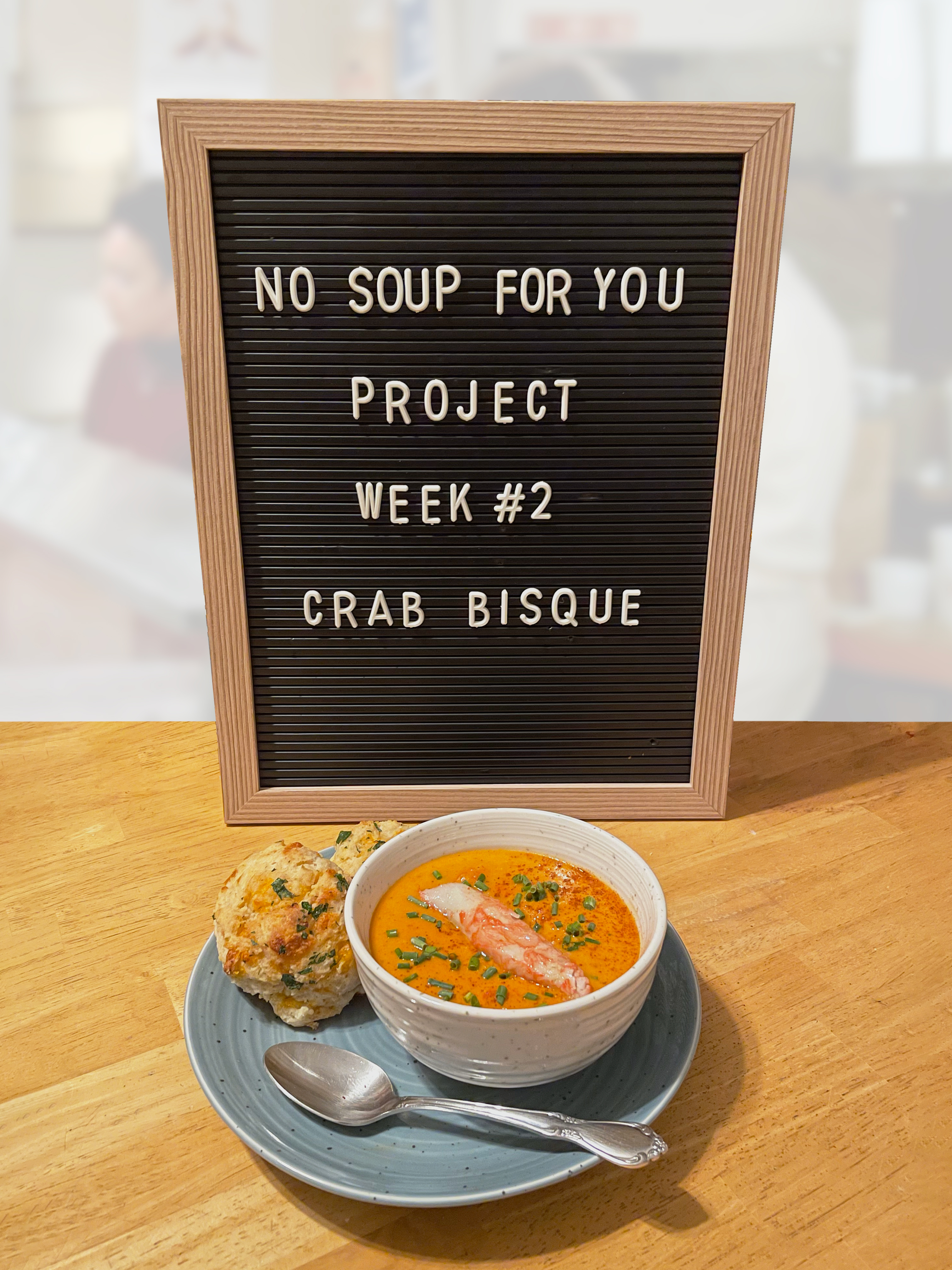 This appears to be Jerry's favorite soup at the stand. It was the bisque so good that it caused Jerry to dump Schmoopie. After Yev Kassem excoriates Jerry's girlfriend Sheila for being overly affectionate in line ("Nobody kisses in my line!"), Jerry just plays dumb and acts like he doesn't know her.

Elaine: So, essentially, you chose soup over a woman?

Jerry: It was a bisque.

Funny enough, Jerry seems to have converted George to Team Crab Bisque as well. After George is first denied soup for asking for bread, we hear that Jerry shared a taste of his bisque with him. Later in the episode, when George returns to the stand in full Soup Mode, he orders a large crab bisque.



This recipe was adapted from other crab bisque recipes published by Evolving Table and My Forking Life, with a few personal tweaks and preferences.

Every soup needs bread. Nothing goes better with crab bisque than cheddar bay biscuits. Turns out those are pretty easy to make at home as well! We followed the recipe published by Cozy Cook.

Ingredients

4 Tbsp butter

1 Small sweet onion, diced

2 Ribs of celery, diced

4 Cloves crushed garlic

¼ cup flour

3 Tbsp tomato paste

Splash of dry white wine

1 Can diced fire roasted tomatoes

1 ½ tsp Old Bay seasoning

4 Cups fish stock

2 Bay leaves

1 Cup heavy cream or half and half

1lb Lump crabmeat, picked through for shells

Salt to taste

Chives to garnish
Directions

In a large dutch oven, melt butter over medium heat. Sautee the onion and celery for several minutes until they begin to soften and the onion becomes translucent. Add garlic and continue cooking for about a minute until the garlic becomes fragrant.

Add in the tomato paste, Old Bay seasoning, and flour. Cook about 3 minutes, stirring occasionally. The paste will darken in color and the flour will begin to stick to the bottom of the pot.

Deglaze with a splash of white wine. Be sure to scrape up anything that may be clinging to the bottom of the pot.

Once the alcohol evaporates off, add in your can of diced tomatoes, fish stock, and bay leaves. Crank up your heat and let the soup reach a boil. Once boiling reduce the heat and let the soup simmer for about 20 minutes. Taste and adjust for seasoning.

Remove your bay leaves. Using an immersion blender, puree the soup until it is silky and smooth. Add in your heavy cream and bring it up to temp.

Taste your soup again and adjust for seasoning again if needed, Stir in your crab meat and let it warm thru. You can reserve some crab meat for garnish if you like. Serve right topped with additional crab meat and chives.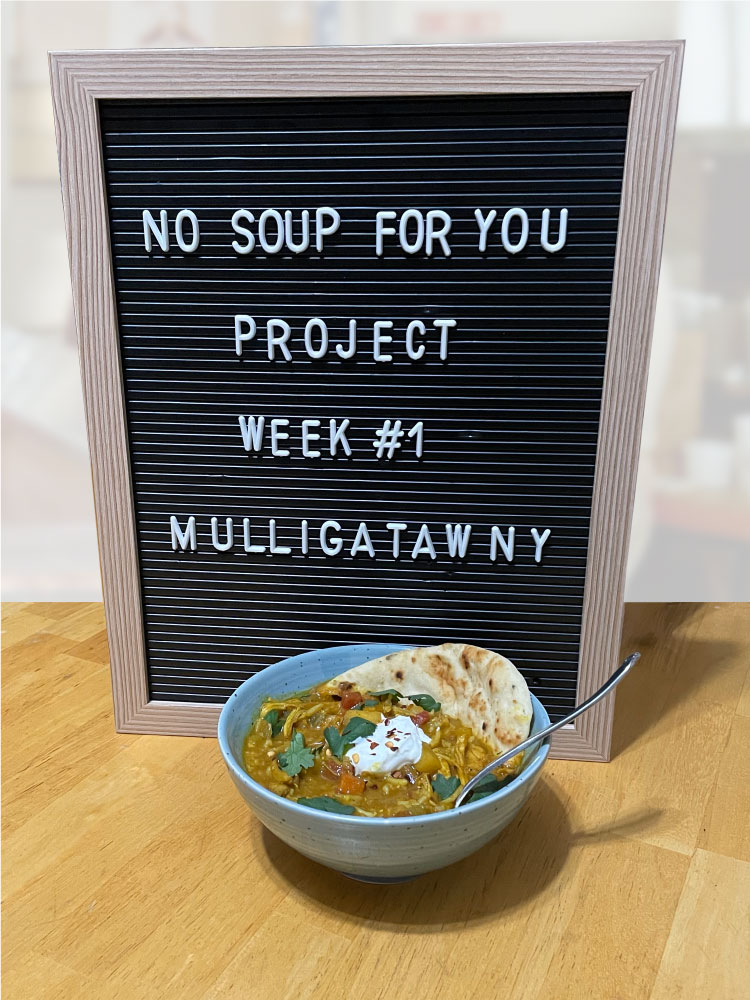 Week #1: Mulligatawny
Ah, yes, an Indian soup simmered to perfection. This soup appears to be Kramer's favorite: he asks Elaine to pick him up a bowl of it in return for watching her armoire.

This recipe was adapted from the wonderful Official Seinfeld Cook Book by Julie Tremaine, with a few personal tweaks, like adding garam masala. Garam masala is a spice with many tastes. A dizzying array of textures...and moments.

What's soup without bread? Yev Kassem was known to charge $2 extra for bread, but you can provide your own. A piece of traditional garlic naan goes excellent with this soup.

Ingredients
2 tbsp butter

1 medium onion, diced

2 celery stalks, diced

2 carrots, peeled and diced

1.5 tbsp curry powder

1.5 tbsp garam masala

1 tsp kosher salt

1 tsp ground cumin

½ tsp black pepper

½ tsp paprika

½ tsp ground turmeric

4 garlic cloves crushed

½ tbsp grated fresh ginger

2 green apples, peeled, cored, and diced

1 can petite diced tomatoes

1 can full fat coconut milk

4 cups chicken stock

3/4 cup cooked basmati rice

½ cup uncooked red lentils

1 cup cooked shredded chicken (use thighs, cook separately and then chop and add to soup)




Directions
In a dutch oven, saute onion, carrot, and celery in butter over medium heat 5-6 minutes.

Add in spices, curry powder, salt, cumin, pepper, paprika, garam masala and turmeric. Stir until everything is coated in spice mixture.

Add garlic, ginger, and apples. Cook until fragrant, a minute or so. Then add in tomatoes and continue cooking, stirring occasionally for 5 minutes.

Add coconut milk and chicken broth. Bring to a boil, once boiling add in lentils. Reduce heat to mid-low and cover pot with lid slightly ajar. Cook 40-45 minutes or until lentils are soft

Add in the chicken and cooked rice and let it heat thru. Serve with greek yogurt and torn cilantro leaves if desired.